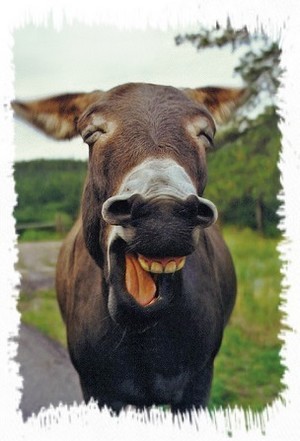 La petite chanteuse á grand cul.
vendredi, septembre 28, 2007
Meg White Sex Tape (*)
My dear non-greek speaking friends who visit this blog,
whatever was the way you ended up here (e.g. my completely useless promotion to you "
I have a blog! Check it out! What? It's in Greek? Who cares anyway, just click cause I'm in deer need of page hits"
), you made me think that it was high time I wrote something for your pleasure too, something you would understand, and have it as a funny and safe -until the
Others
show up- island of wonders in this dark and miserable ocean of internet.
So, in order to "break the ice", let me start with an English joke, that I never had the chance to say to any of my friends here, not because they wouldn't understand it, but because they don't even hear my greek jokes. On a second thought, I don't have any friends to tell them in the first place.
So, enough with me, here's the joke.
An atom is walking down the street and meets another atom, an old friend of him.
"Hey, my old chap! What's up? You don't seem very well?Problems with ya bitch again?".
"Well no it's not that..."
"What is it then? You got the sack or something like that?"
"No, no, no, nothing like it"
"So what is it then?"
"Well, I think I've lost an electron?"
"Wwwhat? Are you sure?"
"Yes. I'm positive..."
Now, I'll give you a fifteen minutes break to finish laughing.
Gia tous tixon ellines anagnwstes pou den gelasan me to asteio, sto endiameso 8a pw ena sta ellinika gia na sigxrwnistoun me tous ksenous kai na mporesoume na sinexisoume sto ipoloipo keimeno. Loipon,
Pws lene oi geroi to profilaktiko?
Papoutso8iki.
So, today I want to talk about my inner dreams, my life as I would like it to be, but I'm not capable of living, because I don't have the opportunity but mainly becauce I'm bored to death trying to live like that. So,
David
,
Andy
,
Elizabetta and Antzela
:
I would like to live abroad,
to have a creative job,
and to travel all the freaking time around the world.

(*)For all of you freaks who ended up here searching for
"Meg White" Sex Tape
, take my
ballocks
, and the following video:
Misirlou Oubliez, 10:59 AM
7 Comments:
Για ποιον λόγο από τους παρακάτω πιστεύεις ότι δεν διάβασα το ποστ σου;

1.Δεν γνωρίζω την Αγγλικήν.
2.Είμαι αναλφάβητος εντελώς.
3.Δεν μου άνοιγε η σελίδα
4.Χάλασε η οθόνη μου.
5.Eπεσε η σύνδεση.
6.Δεν έχω καν(καν) υπολογιστή.
7.Έχω υπολογιστή αλλά όχι ηλεκτρικό ρεύμα.
8.Έχω πεθάνει εδώ και 3 ημέρες από τύφο.
9.Δεν υπάρχω καν(καν)
10.Έχω δώσει τον όρκο του Ιπποκράτη και δεν τον έχει επιστρέψει ακόμα.
11.Όλα τα παραπάνω.
12.Τα μισά από τα παραπάνω.
13.Μόνο τα ζυγά παραπάνω.
14.Άλλοι λόγοι
15.Άλλοι λόγοι να αγαπιόμαστε.
16.Το διάβασα αλλά επειδή δεν είχα τι να κάνω είπα να γράψω ένα εξοντωτικά μεγάλο σχόλιο.
17.Όλα τα παραπάνω.
18.΄Όλα τα παραπάνω μέχρι εκεί που λέει «όλα τα παραπάνω»
19.Κι άλλοι λόγοι.
Tusind tak til alle medvirkende og ikke mindst til alle publikummer der var med til at søsætte Københavns nye elektroniske festival med stil. Uden jer, ingen Strøm.
http://www.linguaphone.gr/
tha mou epitrepseis na metaferw to anekdoto sta mathitoudia mou e? (kai den ennow afto me tous gerous)
den to katalaba (actually kanena den katalaba) eimai aniati periptosi?
Φοβερό ανέκδοτο. Γέλασα κβαντικά.
You, my friend, are positively crazy!